All-on-4 Dental Implants
Achieve the smile of your dreams
with All-on-4® permanent fixed teeth
Specialists in Full Arch Replacements
Permanent teeth anchored with dental implants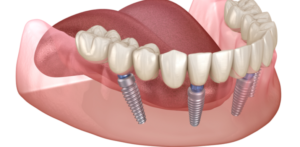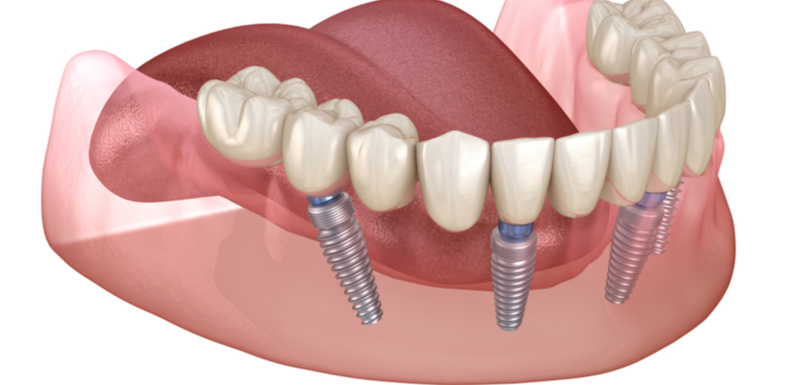 Background
The All-on-4® Treatment
The All-on-4® is a treatment concept was developed in the late 1990's by Nobel Biocare (the top implant manufacturing company in the world). The All-on-4® dental implant treatment allows patients an easier avenue to achieving the smile of their dreams with permanent fixed teeth.  In other words, immediate teeth that are not removable.
The basic concept of the All-on-4® procedure involves the ability to support a full arch of teeth with just 4 implants, all completed in 1 day!  This allows the patient to avoid a denture all together because remaining teeth can be removed, implants placed, and immediate permanent (non-removable) teeth delivered at the same time.
Advantages
The four main benefits
1 – Full arch of teeth with just 4 implants
even in patients with bone loss!
In area of the mouth with no teeth, or in areas with gum disease and bone loss, the size of the jawbone is reduced and has an effect on the ability to place implants to support full arch, non-removable teeth.  This bone loss makes it difficult to place implants – not only because the jawbone is smaller, but because avoiding the posterior nerve in the lower jaw is difficult.
In many circumstances, whether you have lost some or all of your teeth, the bone that used to support those teeth has gotten smaller. Angled implants (called zygomatic) are usually used in the All-on-4® procedure, allowing support for a full arch of teeth on only 4 implants – even in circumstances of bone loss (bone resorption).  This not only allows proper support of the teeth, but also avoids vital structures such as the lower jaw nerve and the maxillary sinus cavity that are more present when bone loss is present.
The All-on-4®procedure helps avoid the maxillary sinus in the upper jaw while still allowing proper support of the teeth. See the angled (zygomatic) implant?
Because of the way the implants are inserted in the All-on-4® procedure, the teeth can be supported with just 4 implants providing a minimally invasive and less costly way to achieve permanent fixed teeth.
2 – Permanent teeth placed the same day as extraction
While possible to immediately place fixed, non-removable teeth in circumstances other than the All-on-4® treatment, this technique is designed to move a person to fixed, non-removable teeth in the same day as extraction (if necessary) and implant placement.  This means you get teeth that work and look great, so you can be proud of your smile while avoiding the use of a traditional complete denture throughout treatment.
3 – All-on-4® can be used if you currently wear full dentures or have natural teeth that need removal
The treatment is for both patients who still have their natural teeth OR patients who are already in full dentures.  Whether the teeth need to be removed or not, the treatment can be used to provide full arch of permanent teeth replacements the same day.
4 – Lower cost than more traditional full arch treatments
The All-on-4® technique allows more people to receive a full arch of teeth than ever before.  The main reason for this is because of the ability to use fewer implants than in the past to achieve the same goal of fixed permanent teeth.  There are many circumstances in which the environment allows for fewer implants and some in which still 6 implants are preferred.  At NC Prosthodontic Specialists, we are Prosthodontists and are highly trained and skilled to analyze each individual situation, so we can customize treatment to each individual person to ensure the best long term results.
Who is a candidate
Is it an option for me to get All-on-4® ?
Because of the advantages of the All-on-4® treatment, most people wanting fixed, non-removable teeth are candidates for the procedure. Below are reasons that you are a good candidate to achieve this life altering transformation.
1. Desire to achieve teeth that are not removable, so you can have full confidence while eating and speaking.
2. Wearing full dentures or want to improve your oral health through extraction of much or all of your remaining teeth.
3. Rarely does bone loss, especially in the lower jaw, remove you from being a candidate for the All-on-4® treatment.
–
All of our Prosthodontists specialize in the All-on-4® treatment. Schedule a consult today to see if you are a good fit.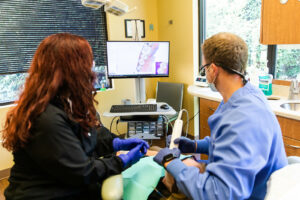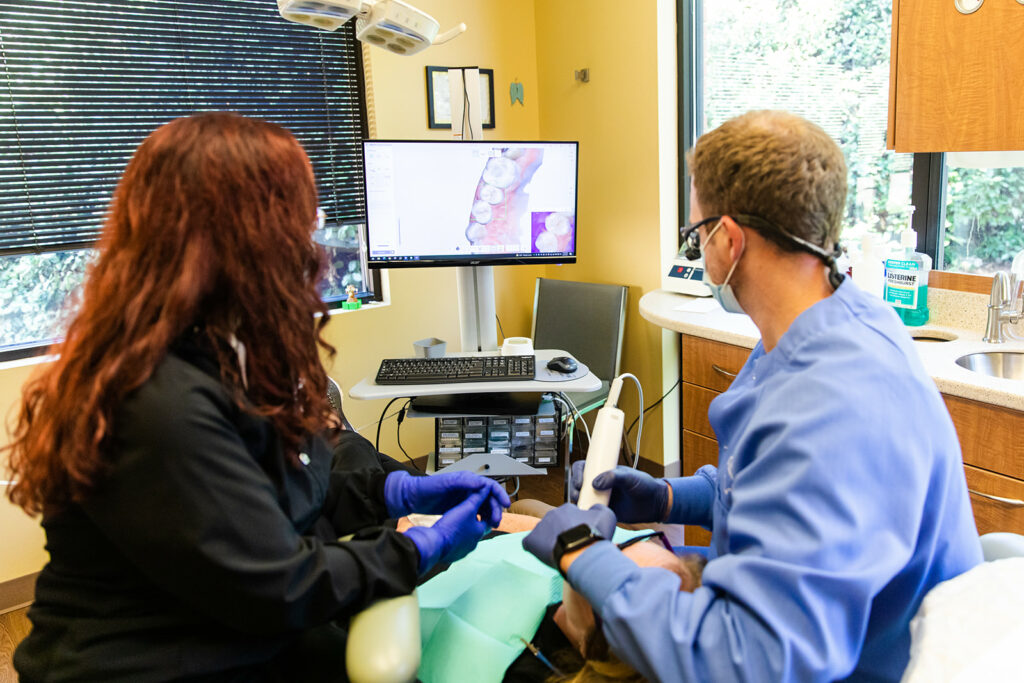 5 benefits of All-on-4® in our office
Same Day Temporary Permanent Teeth
Most cases allow for temporary permanent teeth on implants the same day the natural teeth are removed.
Our in-house laboratory and experienced certified dental laboratory technicians create custom prosthetic teeth on-site.
Sedation Anesthesia during Smile Reconstruction
Patient comfort during the procedure is top priority. Several sedation options are available to maximize patient comfort.
One Location for all procedures
Start to finish – from surgery to final restoration and maintenance care – all services are provided under one roof for convenience and optimal care.
One Price
Every case has one price.
This allows for customized treatment planning without worrying about changes in services and pricing.
Maintenance
Permanent tooth replacement requires maintenance care.
We believe patients should know this upfront. The best way to ensure long lasting tooth replacements is regular maintenance care and regular visits with dental hygienists. We clearly define procedures to ensure your treatment lasts as long as possible.
On-site Dental Lab support
We believe that patients deserve the most esthetically pleasing, functional teeth possible in the field of dentistry. This is why we have a full service on-site dental laboratory with certified dental lab technicians to be able to customize each patients teeth to their individual desires.
Request an appointment
Achieving teeth that you can be proud of the look and be able to eat any food you want should be the goal, whether dental implants are used to support the teeth or not. With our on-site dental lab and experienced lab technicians, you can receive specialized, customized teeth. We achieve this through try-in procedures and direct contact with the lab technicians who fabricate your teeth. This allows us to give you the most esthetic and functional teeth for you, our valued patient.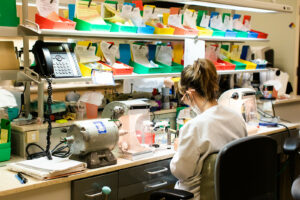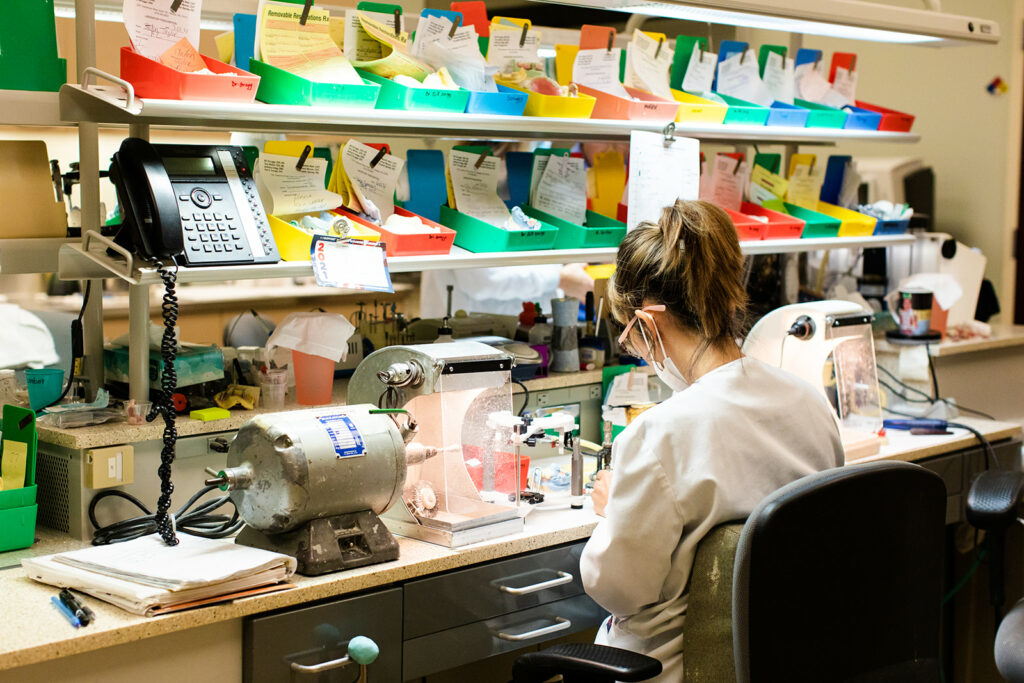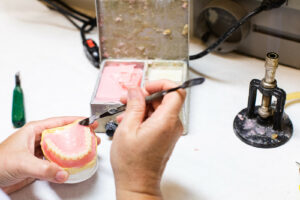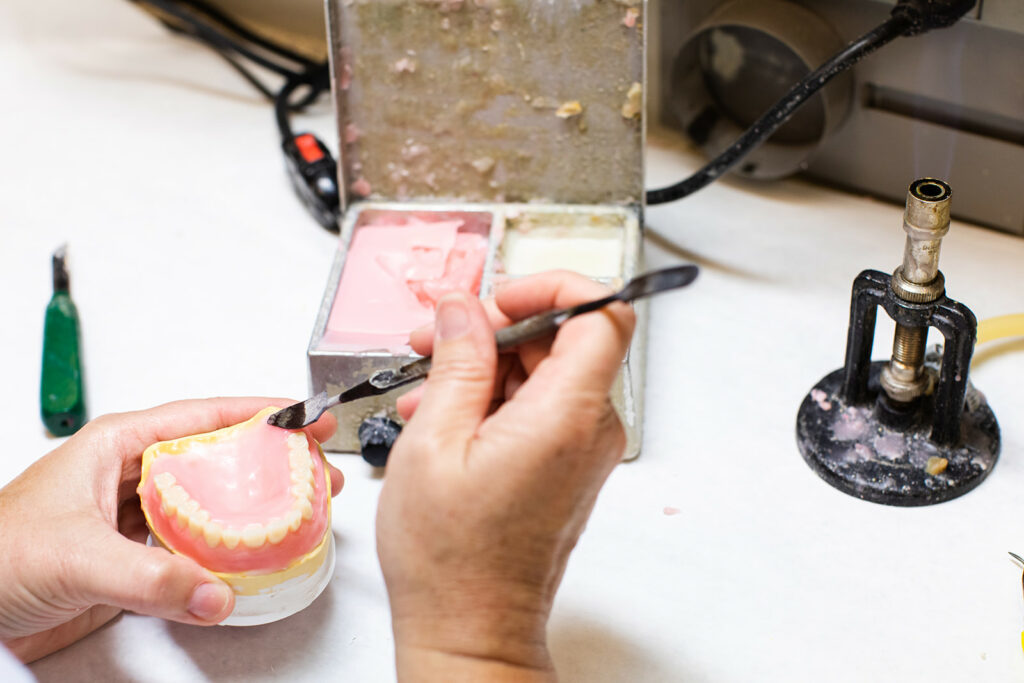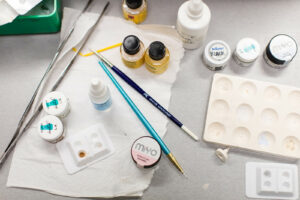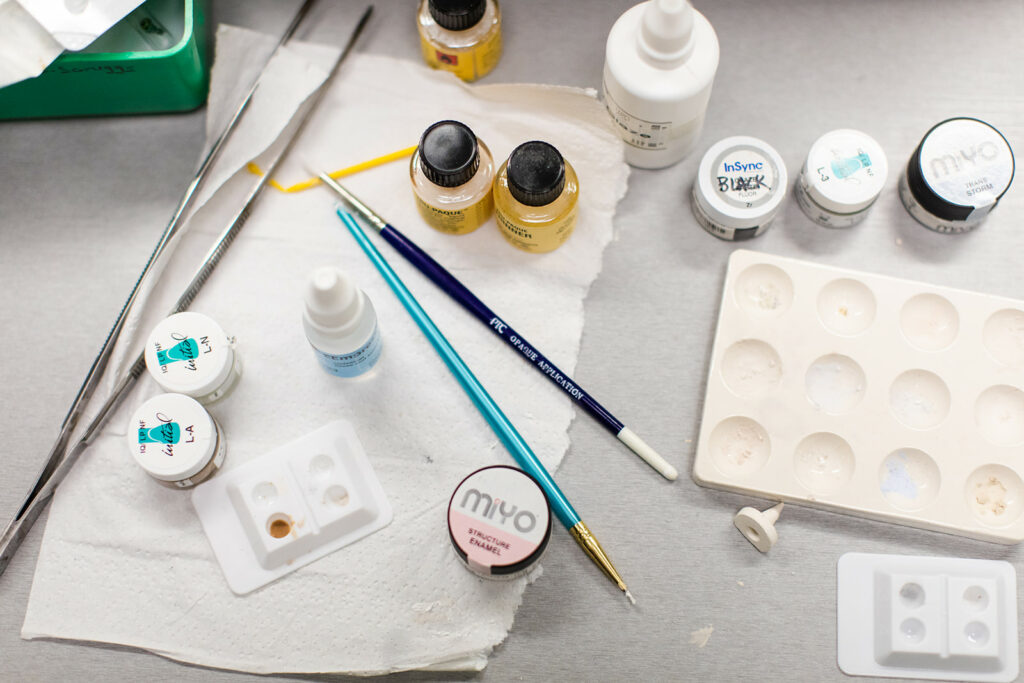 Case study
The whole All-on-4® process
Review this patient's case with us to see what a patient goes through during All-on-4® treatment.
This patient presented to us very unhappy with his smile and ready to undergo treatment to achieve the smile of his dreams! He was ready to get rid of the active infection present in his mouth and improve his oral health; as well as improve his smile to allow full confidence in his life. Following the initial consult, it was decided that unfortunately the remaining teeth were not usable and a full mouth tooth replacement therapy was necessary to achieve his goals.
The treatment decided on by both Dr. Bill Scruggs and our patient was an immediate solution on both arches to remove the bad teeth, place implants and provide non-removable teeth in the same day so that the patient could avoid wearing a denture all together. The plan was to use an All-on-4® treatment concept in the lower arch which is described below.
The 3D CT scan (Cat Scan) made in our office revealed that the patient was a candidate for the All-on-4® treatment concept to provide a bridge supported on 4 implants for the patient. The advantage of this treatment for the patient is that an entire row of teeth can be supported by 4 implants while still avoiding vital anatomic structures that could have prohibited this type of treatment in the past. Here is a before and after picture of the x-ray showing the 4 implants.
The patient presented on the day of the procedure ready to begin his journey to achieve his dream smile. In about 4 hours of total time in the office, the lower teeth were removed, the implants placed, and immediate teeth were delivered that are secured by the implants and the patient was able to leave that day avoiding a lower denture. The patient underwent the procedure with ease under local anesthesia. If he chose to do so, deeper sedation such as IV sedation is available if necessary. Below are how the patient presented the day of the procedure and how the patient went home.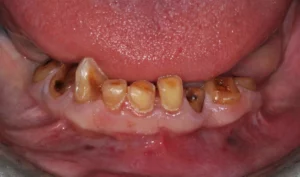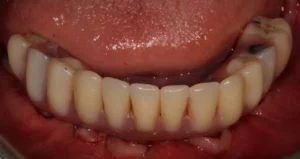 Throughout the healing process, our patient was able to wear permanent fixed teeth that were not removable which has several advantages:
The patient is able to avoid a denture
The wound is protected and the post operative discomfort is greatly reduced
The patient is confident even the day after the procedure in public because the teeth are secure and rigid
After the implants were fully healed, final permanent fixed bridges were fabricated in house by our on-site dental lab technicians and customized through try-in procedures to the patient's liking.  Our patient was able to choose the size, shape, and color of his teeth during this process.  The patient was very pleased with the final esthetic result and the patient's oral health was greatly improved by removing infection from his teeth that were decaying.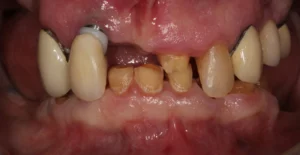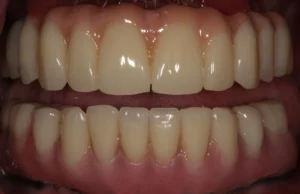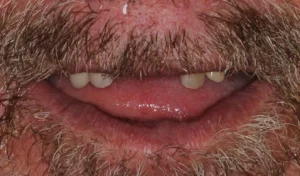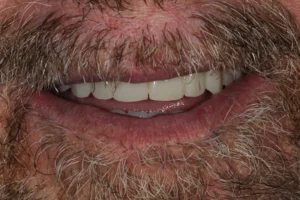 Examples
See the dramatic changes possible with All-on-4®
Patient 1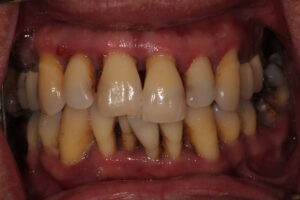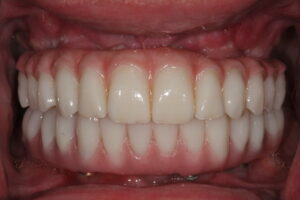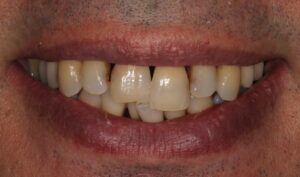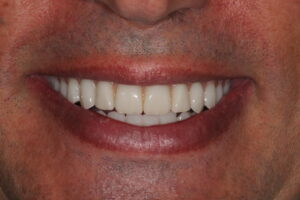 Patient 2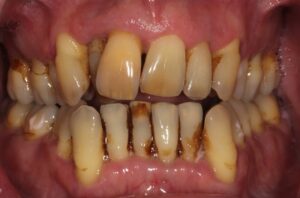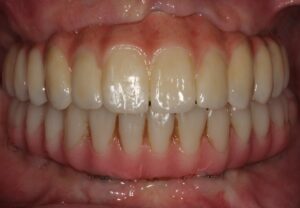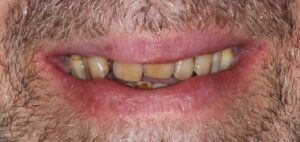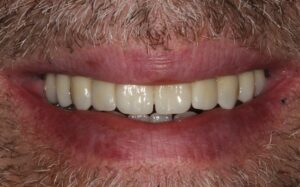 Is All-on-4® for you?
Schedule a consult today to see if you are a candidate for this treatment